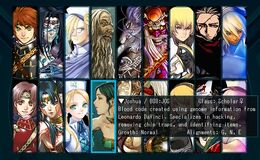 This article is incomplete. You can help Japanese PC Games Wiki by expanding it.
Like most dungeon crawling RPGs, Generation Xth: Code Hazard uses a class system, which enables you to create your own team to explore the labyrinths with. There are a multitude of classes for the player to pick from, and each class is endowed with their own set of unique abilities, skills and spells. In-game, classes are referred to as Bloods.
Generation Xth: Code Hazard gives the player a total of eighteen classes to choose from.
Note: Both monk classes must be unlocked during the game before it can be used.
They are as follows:
Scholar (Mose / Joshua) = B7, B8Edit
Certainly the most helpful, outside of the battle sequences.
In Generation Xth, most of the treasure chests are traped, the scholars have the ability to identify and removing traps when opening chests.
His blood powers give him the abilities to identify your unidentified items, without having to pay and preventing needless round trips to the base.