Generation Xth: Code Hazard
Developer
Team Muramasa
Publisher
Experience Inc.
Released
Apr 30, 2008
Japanese Title
ジェネレーション エクス -コードハザード-
System
Windows
Media
CD-ROM
Genre
Dungeon RPG
Generation Xth: Code Hazard is a first-person dungeon crawler developed by Team Muramasa and published by Experience Inc. in 2008 for Windows.
Unlike many of dungeon crawlers that strictly focus on medieval fantasy, the action takes place in a modern-futuristic cyberpunk environment. This game is only available in Japan but an English fan-translation is available since 2014. Generation Xth: Code Hazard is the first entry in the Generation Xth trilogy.
The setting in near future Tokyo, where monsters known as malforms keep the city under constant threat, and portals that lead to a mysterious dimension known as the Abyss have emerged. To investigate these mysterious phenomena, the government has established a special agency: the Contemporary Physics Organization. Players join the X-Force, a unique group of teenagers modified by the CPO Code technology.
The game comes with an extremely intuitive but in-depth crafting system, and many overall improvements based on the gameplay of the formerly established Wizardry games.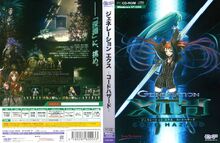 Recruit and train a unique group of six X-Force members and venture into the Abyss. Customize each member with one of the 16 distinct Blood Codes, +2 to unlock during the game. Member's appearance, class, personality, and stats may be molded to the player's preference. There is an elaborate level design in the dungeons: traps, secret doors, switches, teleporters, shock walls, dark zones, roll blocks, one-way doors...
Additional Info
Edit
Players can use the save data in the 2nd game Generation Xth: Code Breaker to play with the same team, keeping their level, and to unlock new features. A port / remake including the 2nd game was released for the PlayStation Vita system in Japan on July 24, 2014 under the title Tokyo Shinseiroku: Operation Abyss, and is scheduled to come out in North America and Europe in spring 2015.
English Translation
Edit
There is a fan-translation available in English at kudomuramasa.foramu.net
Characters
Edit
Main article: List of characters in Generation Xth: Code Hazard
Game Guide
Edit
External Links
Edit
Community content is available under
CC-BY-SA
unless otherwise noted.